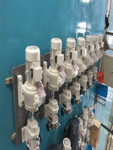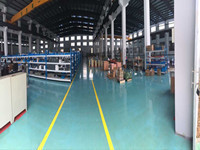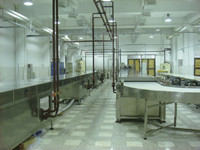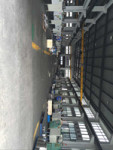 D&R Machinery is the hands that built the equipment to deliver sweets to the ones you love!
D&R Machinery is a total solution, end to end, 0 - 1 turn key manufacturers of the highest quality confectionery equipment in the world.
D&R Machinery has two major production bases, the greater China region and the Middle East region.
D&R Machinery has two major centers for experimental products and r & d equipment.
Dealing scope:
1. Hard candy making machines ,including hard candy depositing machines and hard candy die-forming machines.
2. Lollipop : die forming lollipop machine ( chewy gum centre filled) and lollipop depositing machines
3. Toffee : toffee depositing machines and toffee die-forming machine(like éclairs, Turkish elegant).
4.Jelly candy : Jelly candy depositing machine(carrageenan and pectin base candy).
5. Gummy candy: starch mogul plant (Gelatin base candy,carrageenan base candy, pectin base candy and so on)
6. Chocolate : chocolate refiner and conche, chocolate storage tank, chocolate temper machine, chocolate enrobing machine,one shot moulding machine, chocolate shell moulding machine, chocolate tablet depositing plant. Chocolate chip depositing plant,chocolate chip forming plant (M&M)
7. Candy bar line : candy bar production line, nougat production line,cereal bar line,granola bar production line, muesli bar production line and so on
8. Cake: layer cake and swiss roll production line, cup cake production line and so on.
9. Automatic packing system and packing machines for confectionery and biscuits, secondary packing system
We supply the full technology and food technology service for above machines, also can supply the turnkey project service.
Customer list(parts) :
Turkey: Dilman Sekeler, Evliya Gida, Tatlisumak Gida,Cihan Gida, Hazal Biscuit, Aksu Gida, Balin gida
Pakistan: Ismail Industries, Hilal Industries, Kraft Pakistan, English biscuit and so on.
America: THE TOPPSCOMPANY. INC.

Iran: AIDIN, SHIVA MFGCO
Israel: TOP GUM
Argeria: SARL KAOUA FOOD
South America: ARCOR
South Africa: O'YEAH SWEETS
Poland: ZPC VOBRO
Indian: Dukes Hyderabad, Dolphin Foods Hyderabad, Naughty Foods, Desire Confectionery, Nature Foods , Shell Oversea and so on.
Russia: Konti Group, Swiss roll and layer cake production line

South Korea: Mogul line